Overview
Provides students with a comprehensive range of counselling and health communication theories, approaches and practical skills.
Summary
The overall aim of this programme is to provide students with a comprehensive and rigorous academic grounding in a range of counselling and health communication theories, approaches and practical skills. The programme offers students an opportunity to learn about the conscious and unconscious psychological and biopsychosocial factors that underpin individual feelings, thoughts and behaviours across the lifespan, and within the context of the couple, the family and the group.
The programme is underpinned by a number of research-informed approaches to pedagogy and practice, designed to facilitate the development of observation and analytical skills and the capacity for self-awareness, self-reflection and insight.

While this course is not formal counsellor training, it does provide a solid academic grounding for students who wish to pursue professional counselling or psychotherapy training and accreditation following graduation. It also facilitates professionals extending and deepening their understanding of their own profession, plus pursue further training in a range of professions, e.g. counselling and psychotherapy, healthcare communication, psychology, social work, health and social care, medicine, nursing, youth work, law, community work, teaching, human resources and business.
---
Sign up to hear more about Ulster
About this course
About
A central strength of the course is the teaching team, consisting of academics with both practice and research experience in the fields of counselling and health communication. Staff members ensure that the content of the course is continually updated based on innovations in practice and research.
Students take a range of compulsory interdisciplinary modules to facilitate them developing and honing the intellectual and practical skills required for effective professional communication and ethical decision-making within the workplace. The modules include: Introduction to Counselling; Counselling and Therapeutic Framework; Health Communication; Human Growth and Transition; Humanistic Counselling Perspectives; Psychodynamic Approaches; Cognitive Behavioural Therapy; and Research Methods, and Dissertation.
The course provides:
Structured Continuing Professional Development opportunities for individuals who use counselling and health communication skills in a range of practice contexts.
Flexibility through optional study to allow students to pursue specialist areas of interest.
A good balance of theoretical and skills training relevant to student need.
A well-balanced grounding in the theoretical and practical study of communication in applied counselling and healthcare contexts.
A solid grounding in research methods, skills and ethics that will enable students to carry out independent research in the areas of counselling and health communication.
An understanding of key contextual areas relevant to students' work experience and the ability to evaluate their own professional practice.
Some modules are available in block teaching format.
The Postgraduate Diploma is a 'Professional in Practice' approved programme for the NI Specialist Award in Social Work, awarded by the Northern Ireland Social Care Council (NISCC).
The MSc meets three requirements for the 'Professional in Practice NI Leadership & Strategic Award in Social Work', awarded by the Northern Ireland Social Care Council (NISCC).
Awarded the Advanced Training Status from the National Counselling Society (NCS).
The course provides approximately 200 taught hours of training that may be used to contribute to accreditation with professional bodies (please contact relevant professional body directly for guidance on accreditation policy).
Students can complete modules as part of a CPD pathway, PG Certificate, PG Diploma or Masters programme.
Attendance
This programme is available both full-time and part-time
Morning and afternoon classes.
Start dates
Teaching, Learning and Assessment
Teaching & Learning Methods: The programme comprises a mix of theoretical and practical teaching methods and will be delivered by means of lectures, seminars and workshops. This includes guest speakers, case studies and practical classes such as skils work using role plays.
Assessment Methods:All modules are 100% coursework. You will be assessed by a variety of methods including: essays, reports, and class presentations. This includes innovative methods such as use of films, and real life work-based project within mental health or counselling related organisations.
The content for each course is summarised on the relevant course page, along with an overview of the modules that make up the course.
Each course is approved by the University and meets the expectations of:
Attendance and Independent Study
As part of your course induction, you will be provided with details of the organisation and management of the course, including attendance and assessment requirements - usually in the form of a timetable. For full-time courses, the precise timetable for each semester is not confirmed until near the start date and may be subject to change in the early weeks as all courses settle into their planned patterns. For part-time courses which require attendance on particular days and times, an expectation of the days of attendance will often be included in the letter of offer. A course handbook is also made available.
Courses comprise modules for which the notional effort involved is indicated by its credit rating. Each credit point represents 10 hours of student effort. Undergraduate courses typically contain 10- or 20-credit modules and postgraduate course typically 15- or 30-credit modules.
The normal study load expectation for an undergraduate full-time course of study in the standard academic year is 120 credit points. This amounts to around 36-42 hours of expected teaching and learning per week, inclusive of attendance requirements for lectures, seminars, tutorials, practical work, fieldwork or other scheduled classes, private study, and assessment. Part-time study load is the same as full-time pro-rata, with each credit point representing 10 hours of student effort.
Postgraduate Masters courses typically comprise 180 credits, taken in three semesters when studied full-time. A Postgraduate Certificate (PGCert) comprises 60 credits and can usually be completed on a part-time basis in one year. A 120-credit Postgraduate Diploma (PGDip) can usually be completed on a part-time basis in two years.
Class contact times vary by course and type of module. Typically, for a module predominantly delivered through lectures you can expect at least 3 contact hours per week (lectures/seminars/tutorials). Laboratory classes often require a greater intensity of attendance in blocks. Some modules may combine lecture and laboratory. The precise model will depend on the course you apply for and may be subject to change from year to year for quality or enhancement reasons. Prospective students will be consulted about any significant changes.
Assessment
Assessment methods vary and are defined explicitly in each module. Assessment can be via one method or a combination e.g. examination and coursework . Assessment is designed to assess your achievement of the module's stated learning outcomes. You can expect to receive timely feedback on all coursework assessment. The precise assessment will depend on the module and may be subject to change from year to year for quality or enhancement reasons. You will be consulted about any significant changes.
Coursework can take many forms, for example: essay, report, seminar paper, test, presentation, dissertation, design, artefacts, portfolio, journal, group work. The precise form and combination of assessment will depend on the course you apply for and the module. Details will be made available in advance through induction, the course handbook, the module specification and the assessment timetable. The details are subject to change from year to year for quality or enhancement reasons. You will be consulted about any significant changes.
Normally, a module will have four learning outcomes, and no more than two items of assessment. An item of assessment can comprise more than one task. The notional workload and the equivalence across types of assessment is standardised.
Calculation of the Final Award
The class of Honours awarded in Bachelor's degrees is usually determined by calculation of an aggregate mark based on performance across the modules at Levels 5 and 6 (which correspond to the second and third year of full-time attendance).
Level 6 modules contribute 70% of the aggregate mark and Level 5 contributes 30% to the calculation of the class of the award. Classification of integrated Masters degrees with Honours include a Level 7 component. The calculation in this case is: 50% Level 7, 30% Level 6, 20% Level 5. At least half the Level 5 modules must be studied at the University for Level 5 to be included in the calculation of the class.
All other qualifications have an overall grade determined by results in modules from the final level of study. In Masters degrees of more than 200 credit points the final 120 points usually determine the overall grading.
Figures correct for academic year 2019-2020.
Academic profile
This course is team-taught by staff in the award-winning Counselling and Health Communication Team (Ulster CHC), who are based in the School of Communication and Media, all of whom are highly-experienced, internationally-recognised experts in their respective fields of study: Counselling and Health Communication, Psychoanalysis and Psychotherapy, Mental Health, Ethics, and Psychosocial Studies. The course team includes practitioner and researcher members of a range of professional clinical and scholarly bodies, including the British Association for Counselling and Psychotherapy, the Irish Council for Psychotherapy, the Northern Ireland Institute of Human Relations, the British Psychological Society, the Association for Healthcare Communications and Marketing, the UK Council for Psychotherapy, the Association for Nutrition, the College for Psychoanalysis and Jungian Analysis, the Institute of Clinical Research, the Association for Psychosocial Studies, the Science Council, the Higher Education Academy, and the British Psychoanalytic Council. The team also includes the Vice-Chair of the NHS Research Ethics Committee, Office of Research Ethics Committees for Northern Ireland.

The Counselling and Health Communication Team has a strong commitment to providing civic engagement activities, including CPD for counsellors and other professionals. The Team co-directs the Mental Health and the Arts interdisciplinary, cross-border initiative. The team also has an active Twitter account (@UlsterCHC) connecting with organisations, professional bodies, practitioners, students and alumni.
The University employs over 1,000 suitably qualified and experienced academic staff - 59% have PhDs in their subject field and many have professional body recognition.
Courses are taught by staff who are Professors (25%), Readers, Senior Lecturers (20%) or Lecturers (55%).
We require most academic staff to be qualified to teach in higher education: 82% hold either Postgraduate Certificates in Higher Education Practice or higher. Most academic staff (81%) are accredited fellows of the Higher Education Academy (HEA) by Advanced HE - the university sector professional body for teaching and learning. Many academic and technical staff hold other professional body designations related to their subject or scholarly practice.
The profiles of many academic staff can be found on the University's departmental websites and give a detailed insight into the range of staffing and expertise. The precise staffing for a course will depend on the department(s) involved and the availability and management of staff. This is subject to change annually and is confirmed in the timetable issued at the start of the course.
Occasionally, teaching may be supplemented by suitably qualified part-time staff (usually qualified researchers) and specialist guest lecturers. In these cases, all staff are inducted, mostly through our staff development programme 'First Steps to Teaching'. In some cases, usually for provision in one of our out-centres, Recognised University Teachers are involved, supported by the University in suitable professional development for teaching.
Figures correct for academic year 2021-2022.
Belfast campus
The Belfast campus is situated in the artistic and cultural centre of the city, the Cathedral Quarter.
Accommodation
High quality apartment living in Belfast city centre adjacent to the university campus.
Find out more - information about accommodation
---
Student Wellbeing
At Student Wellbeing we provide many services to help students through their time at Ulster University.
Find out more - information about student wellbeing
---
Belfast Campus Location
Campus Address
Ulster University,
York St,
Belfast
BT15 1ED
Campus maps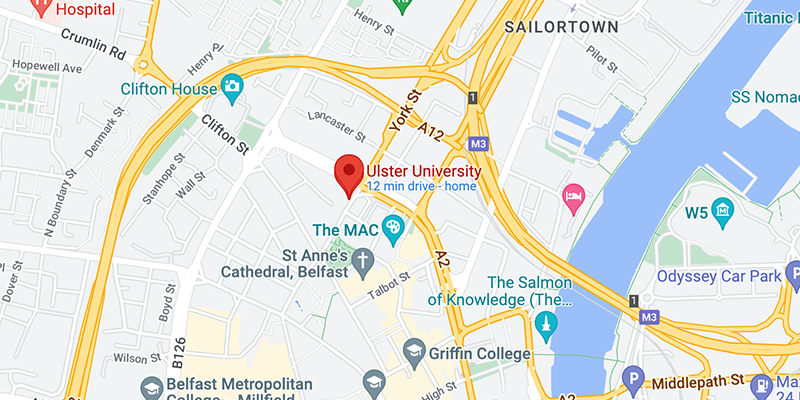 View Google Maps
View Map Diagram
Modules
Here is a guide to the subjects studied on this course.
Courses are continually reviewed to take advantage of new teaching approaches and developments in research, industry and the professions. Please be aware that modules may change for your year of entry. The exact modules available and their order may vary depending on course updates, staff availability, timetabling and student demand. Please contact the course team for the most up to date module list.
Year one
Human Growth and Transition
Year: 1
Status: C
This module draws upon a range of developmental and transitional psychological theory and seeks to relate it to personal learning and the counselling process. Theoretical learning and practical applications will be facilitated through a combination of lectures, student-led seminars and presentations focusing on personal experience.
Introduction to Counselling
Year: 1
Status: C
This module will introduce students to the field of counselling, how it has developed as a profession and its components, including clinical assessment and case formulation. The module will focus on three approaches to counselling: person-centred therapy, psychodynamic therapy and cognitive-behavioural therapy. Students will read a range of clinical writings in the field of counselling, and discuss a number of case studies to link theory to practice.
Counselling and Therapeutic Framework
Year: 1
Status: C
The module examines the fundamental nature of counselling practice and explores key theories, approaches, skills, and relational dimensions.
Fundamentals of Cognitive Behaviour Therapy
Year: 1
Status: C
This module is designed to develop a basic knowledge of the theoretical and empirical underpinnings of cognitive-behavioural approaches to counselling. The functional analysis process and treatment options are evaluated in relation to current research and future developments in clinical practice identified and evaluated. Teaching methods include lectures and student led seminars. Formal lectures will provide students with an overview of theoretical and empirical underpinnings of the model. Comparative models of counseling will be assessed in relation to the theoretical and empirical basis of CBT in order to develop critical thinking skills. Asssessment is by coursework which incorporates individual research and analysis of current issues.
Humanistic Counselling Perspectives
Year: 1
Status: C
This core module offers an in-depth exploration of the Humanistic approach; it's origins, development, key concepts and popular expression in the Person-Centred Approach (PCA) to counselling. Viewed as a radical movement, the course presents the PCA as a coherent counselling model, which may form the basis of an integrated way of working effectively with people. Through deeper understanding of the work of key theorists, students consider a response to common critiques of the Person-Centered Approach, appreciate the importance of relationship, develop critical reflective ability and hone existing interpersonal and communication skills. Such knowledge of self and impact on Others will be useful those whose work relies on effective inter-personal communication.
Psychodynamic Approaches
Year: 1
Status: C
This module will introduce students to psychodynamic approaches to counselling. In order to look at how psychodynamic therapists work, the module will explore the therapeutic concepts they use within the context in which they are formulated and developed: clinical psychoanalysis. The module will explore a number of key psychoanalytic concepts, and will use case materials from clinical writings and examples drawn from the arts and culture to link theory to practice.
Health Communication
Year: 1
Status: C
This module provides an overview of the current issues within health communication. Students will have the opportunity to explore the challenges and opportunities of communicating to a range of audiences/stakeholders within healthcare. They will gain a detailed understanding of communication skills, theories and concepts related to the complexities of communicating in healthcare. The module will enable them to evaluate a range of health transactions and contexts including managing stakeholders, partnership working, risk communication and crisis management. Students will be aware of risk communication and acquire knowledge of managing a health crisis. Current communication issues in healthcare will be discussed. Students will have experience working on a work-based project in an organisation within a healthcare setting, which can be either be in public, private or voluntary sectors, thus transferring the theory to application and practice.
Dissertation
Year: 1
Status: C
The Communication dissertation aims to enable students to design and carry out an independent piece of research. It is intended that this will strengthen their ability to interpret and apply research data to a work environment. The research will focus in depth on one area of communication.
Research Methods
Year: 1
Status: C
This module aims to provide information that will enable students to make appropriate and considered research decisions. It is designed to develop students' understanding of the nature of research, key research traditions, the research process and the range of methods available to the researcher, including qualitative and quantitative approaches. It also aims to help students acquire a critical understanding of the issues and methods in the generation and analysis of data and in the communication and evaluation of research findings.
Standard entry conditions
We recognise a range of qualifications for admission to our courses. In addition to the specific entry conditions for this course you must also meet the University's General Entrance Requirements.
Entry Requirements
Requirements for admission as detailed below:
(i) Hold an honours or non-honours degree (2:2 or above) or equivalent or demonstrate ability to undertake the course through the accreditation of prior experiential learning;
and
(ii) Be currently employed in or have recent experience (within the last five years) of employment either professionally or voluntarily in a role involving the use of counselling skills;
and
(iii) Attend for interview to show evidence of having the personal qualities necessary to undertake counselling training.
The closing date for applications is normally 31st July, with interviews for potential applicants scheduled in May and August. Late applications may be considered until 31st August (with applicant interviews in early September). However, where possible applicants should apply before the July deadline.
English Language Requirements
The minimum requirement for this course is Academic IELTS 6.0 with no band score less than 5.5.
Trinity ISE: Pass at level III also meets this requirement for Tier 4 visa purposes.
Ulster recognises a number of other English language tests and comparable IELTS equivalent scores.
Exemptions and transferability
Any student completing a module(s) as stand-alone as CPD then that module(s) and the credit points can be used towards PgDip/MSc.
Careers & opportunities
Career options
Can I apply for a PhD upon completion of the MSc?
​Graduates will be in a strong position to apply for PhD study in the fields of counselling, psychotherapy, health communication, psychoanalysis and psychosocial studies.
What areas of work are previous students now engaged in?
Previous students have developed their work activities in counselling, health communication and associated areas. Additionally, past students have used the programme themes to support their existing work.
Will completion of the course qualify me as a counsellor?
The course would not enable you to practise as a qualified counsellor. However, the course can contribute towards accreditation with professional bodies.
What steps would I need to take to become a fully-registered counsellor?
Professional bodies, such as the National Counselling Society (NCS), British Association for Counselling and Psychotherapy (BACP) and Irish Association for Counselling and Psychotherapy (IACP), can provide details on the eligibility criteria for counsellor accreditation. Please contact these professional bodies directly for further information.
National Counselling Society (NCS) https://www.nationalcounsellingsociety.org
British Association for Counselling and Psychotherapy (BACP) https://www.bacp.co.uk
Irish Association for Counselling and Psychotherapy (IACP) https://www.iacp.ie ​
Work placement / study abroad
There are opportunities within some modules to work on projects in collaboration with public, private or voluntary organisations and potential employers. In addition, there are opportunities each year with the International Department to apply for various short-term, international exchange opportunities.
In addition, there are opportunities within modules to conduct work-based projects within counselling and health-related organisations. Students work on real-life projects in real time that make a tangible impact on the community and within their profession. These work-based projects offer valuable networking opportunities with professionals in counsellng and health communication.
Fees and funding
Important notice - fees information
Fees illustrated are based on academic year 22/23 entry and are subject to an annual increase.
If your study continues into future academic years your fees are subject to an annual increase. Please take this into consideration when you estimate your total fees for a degree.
Additional mandatory costs are highlighted where they are known in advance. There are other costs associated with university study.
Visit our Fees pages for full details of fees.
Correct at the time of publishing. Terms and conditions apply.
Fees (total cost)
Northern Ireland, Republic of Ireland and EU Settlement Status Fees
£6,410.00
International Fees
£15,360.00
Where the postgraduate course selected offers multiple awards (e.g. PG Cert, PG Dip, Masters), please note that the price displayed is for the complete Masters programme.
Postgraduate certificates and diplomas are charged at a pro-rata basis.
Find out more about postgraduate fees
Additional mandatory costs
N/A
It is important to remember that costs associated with accommodation, travel (including car parking charges) and normal living will need to be covered in addition to tuition fees.
Where a course has additional mandatory expenses (in addition to tuition fees) we make every effort to highlight them above. We aim to provide students with the learning materials needed to support their studies. Our libraries are a valuable resource with an extensive collection of books and journals, as well as first-class facilities and IT equipment. Computer suites and free Wi-Fi are also available on each of the campuses.
There are additional fees for graduation ceremonies, examination resits and library fines.
Students choosing a period of paid work placement or study abroad as a part of their course should be aware that there may be additional travel and living costs, as well as tuition fees.
See the tuition fees on our student guide for most up to date costs.
Disclaimer
The University endeavours to deliver courses and programmes of study in accordance with the description set out in this prospectus. The University's prospectus is produced at the earliest possible date in order to provide maximum assistance to individuals considering applying for a course of study offered by the University. The University makes every effort to ensure that the information contained in the prospectus is accurate but it is possible that some changes will occur between the date of printing and the start of the academic year to which it relates. Please note that the University's website is the most up-to-date source of information regarding courses and facilities and we strongly recommend that you always visit the website before making any commitments.
Although reasonable steps are taken to provide the programmes and services described, the University cannot guarantee the provision of any course or facility and the University may make variations to the contents or methods of delivery of courses, discontinue, merge or combine courses and introduce new courses if such action is reasonably considered to be necessary by the University. Such circumstances include (but are not limited to) industrial action, lack of demand, departure of key staff, changes in legislation or government policy including changes, if any, resulting from the UK departing the European Union, withdrawal or reduction of funding or other circumstances beyond the University's reasonable control.
If the University discontinues any courses, it will use its best endeavours to provide a suitable alternative course. In addition, courses may change during the course of study and in such circumstances the University will normally undertake a consultation process prior to any such changes being introduced and seek to ensure that no student is unreasonably prejudiced as a consequence of any such change.
The University does not accept responsibility (other than through the negligence of the University, its staff or agents), for the consequences of any modification or cancellation of any course, or part of a course, offered by the University but will take into consideration the effects on individual students and seek to minimise the impact of such effects where reasonably practicable.
The University cannot accept any liability for disruption to its provision of educational or other services caused by circumstances beyond its control, but the University will take all reasonable steps to minimise the resultant disruption to such services.
Testimonials
Deciding to study the MSc in Counselling and Therapeutic Communication was one of the best decisions I could have made for my career. Initially I wasn't sure if I could fit it into my life, trying to balance work and study can be difficult but the course director was both supportive and flexible in helping make that decision and throughout the course. My academic background is in psychology and I have been working in the youth work sector for seven years. I always found myself in the position where people want to talk about personal concerns and this was my primary motivation for doing the course. I wanted to learn how to develop my natural abilities into more tangible skills and learn practical counselling skills which can be used across an array of situations. This course allowed me to do that and I also got to learn more about counselling as a profession and the different routes and training that are needed to become a professional counsellor.
I discovered and learned a lot about myself and completing this course has given me a tremendous sense of personal achievement. The labs were a great opportunity to practice the theory we were learning throughout the weeks and allowed you to reflect on yourself and learn from others. One of the most enjoyable parts of the course was getting to research what you are interested in. I conducted research around young men and mental health and was able to use develop and implement a programme at work for young men. This was something I didn't anticipate but has been one of the best outcomes of doing this course.
For the moment I am happy working in youth work but becoming a professional counsellor in the future is something I would really like to do. This course acts as a great springboard to becoming a counsellor. Entering the counselling profession is personal commitment as it takes much training and time, what this course allows you to do is to explore the subject, learn new skills and help you decide what direction you want to follow.
Louise Lynch MSc Counselling and Therapeutic Communication, now completing PhD within the School of Communication and Media in the area relating to Counselling and Health Communication