Internet of Things - MSc - Video
Providing high-quality professionals for the Internet of Things industry
Take a look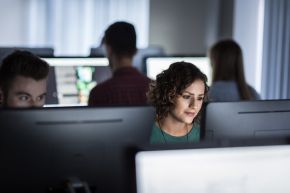 Friday 24 August
5:40PM - 6:10PM
The MSc in Internet of Things aims to train computing and engineering professionals to follow a career where they can apply leading-edge computing, engineering,
Find out about this event
Overview
* This course is undergoing academic validation. Please note that the information displayed here is subject to change as part of this process.
Providing high-quality professionals for the Internet of Things industry
Summary
The Internet of Things (IoT) has become one of the most discussed technology trends of recent years mainly due to the expected impact that it will have and, as a result, how it will change the way people live, work and travel. As a discipline, it covers elements of Computing Science, Engineering, and Data Science.
The MSc in Internet of Things aims to train computing and engineering professionals to follow a career where they can apply leading-edge computing, engineering, sensor technology, networks and data science skills across a range of application domains. The course content has been informed by internationally leading research being conducted by the School of Computing and the School of Engineering. The delivery of the course is supported by a large-scale pervasive and mobile computing environment, a suite of contemporary sensing technologies and rapid prototyping facilities.
The University regularly 'refreshes' courses to make sure they are as up-to-date as possible. The University calls this process 'academic revalidation¹. This course will be 'refreshed' and changes may be put in place.
For the most up-to-date course/ module information, please contact the Course Director.
Sign up for course updates
Sign up to receive regular updates, news and information on courses, events and developments at Ulster University.
We'll not share your information and you can unsubscribe at any time.
About this course
In this section
About
This intensive one-year specialist master's course on Internet of Things is aimed at highly-motivated graduates with a good honours degree in computing, engineering or a related discipline. While the course has a particular focus on the employment needs of the local economy, the skills and abilities developed are easily transferred to a more global stage.
The Internet of Things is an exciting and exponentially growing area both within industry and academic. It sits at the intersection between Computing Science, Engineering and Data Science. The proposed MSc in Internet of Things will, therefore, prepare students for both an industrial career with skills in computing, networks, sensor technologies and data analytics in addition to providing a relevant platform to embark on research studies. These types of skills are in high demand within the sector across the key verticals of Smart Cities, Industrial IoT, Connected Health and Smart Homes.
Attendance
This is a full-time, one year (12 months) programme, delivered across three semesters.
Start dates
How to apply
Entry conditions
We recognise a range of qualifications for admission to our courses. In addition to the specific entry conditions for this course you must also meet the University's General Entrance Requirements.
In this section
Entry Requirements
Applicants must:
(a) have gained
(i) a second class lower division honours degree or better, in the subject areas of computing, engineering or cognate area from a university of the United Kingdom or the Republic of Ireland, or from a recognised national awarding body, or from an institution of another country which has been recognised as being of an equivalent standard; or
(ii) an equivalent standard (normally 50%) in a Graduate Diploma, Graduate Certificate, Postgraduate Certificate or Postgraduate Diploma or an approved alternative qualification; and the qualification must be in the subject areas of computing, engineering or related discipline
and
(b) provide evidence of competence in written and spoken English (GCSE grade C or equivalent).
In exceptional circumstances, as an alternative to (a) (i) or (a) (ii) and/or (b), where an individual has substantial and significant experiential learning, a portfolio of written evidence demonstrating the meeting of graduate qualities (including subject-specific outcomes, as determined by the Course Committee) may be considered as an alternative entrance route. Evidence used to demonstrate graduate qualities may not be used for exemption against modules within the programme
English Language Requirements
English language requirements for international applicants
The minimum requirement for this course is Academic IELTS 6.0 with no band score less than 5.5. Trinity ISE: Pass at level III also meets this requirement for Tier 4 visa purposes.
Ulster recognises a number of other English language tests and comparable IELTS equivalent scores.
Teaching and learning assessment
Teaching is delivered through a combination of lectures, directed tutorials, seminars and practical sessions. Support is also provided for project preparation and implementation.
The course is assessed by coursework.
Exemptions and transferability
The entry requirements facilitate accreditation of prior learning.
Careers & opportunities
In this section
Career options
The Internet of Things is expected to have a significant impact on industry with predictions of its success and growth constantly rising. It is at the same time the most anticipated and least understood initiative within IT departments. Figures at the start of 2018 suggest that nearly 70% of organisations have developed plans to embrace IoT in their organisation within the next year. As the expectations of how IoT will redefine an organisation's operations grow so too are the expectations to have appropriately knowledgeable and skilled staff in the areas of computing, engineering and data science in addition to having an appreciation for business processes and market potential. Taking all of this into consideration, graduates from the MSc in Internet of Things will be well placed to progress into a wide variety of careers, across a range of industrial settings and application domains.
There are also opportunities for graduates from the MSc Internet of Things to embark on further research by enrolling for PhD study affiliated with the research centres within the School of Computing and the School of Engineering. Computing related PhD studies can be perused in the areas of Pervasive Computing and Artificial Intelligence within the School of Computing whilst sensor technology, networking and RTOS research can be undertaken within the School of Computing.
Work placement / study abroad
N/A
Academic profile
Ulster University academics are actively involved in both research and teaching and this ensures that the developments accrued through research can feed into the teaching of students. A high percentage of staff are members of the Higher Education Academy, and all staff are expected to have a Postgraduate Certificate in University Teaching or equivalent. All Computing and Engineering courses are subject to periodic Faculty Review and University Revalidation.
Fees and funding
In this section
Fees (total cost)
Important notice - fees information Fees illustrated are based on 18/19 entry and are subject to an annual increase. Correct at the time of publishing. Terms and conditions apply. Additional mandatory costs are highlighted where they are known in advance. There are other costs associated with university study.
Visit our Fees pages for full details of fees
Northern Ireland & EU:

£5,500.00

International:

£13,680.00

Scholarships available
Scholarships, awards and prizes
N/A
Additional mandatory costs
None
Tuition fees and costs associated with accommodation, travel (including car parking charges), and normal living are a part of university life.
Where a course has additional mandatory expenses we make every effort to highlight them. These may include residential visits, field trips, materials (e.g. art, design, engineering) inoculations, security checks, computer equipment, uniforms, professional memberships etc.
We aim to provide students with the learning materials needed to support their studies. Our libraries are a valuable resource with an extensive collection of books and journals as well as first-class facilities and IT equipment. Computer suites and free wifi is also available on each of the campuses.
There will be some additional costs to being a student which cannot be itemised and these will be different for each student. You may choose to purchase your own textbooks and course materials or prefer your own computer and software. Printing and binding may also be required. There are additional fees for graduation ceremonies, examination resits and library fines. Additional costs vary from course to course.
Students choosing a period of paid work placement or study abroad as part of their course should be aware that there may be additional travel and living costs as well as tuition fees.
Please contact the course team for more information.