Choose a different career stage
Alumni
Explore what the Belfast School of Art has to offer you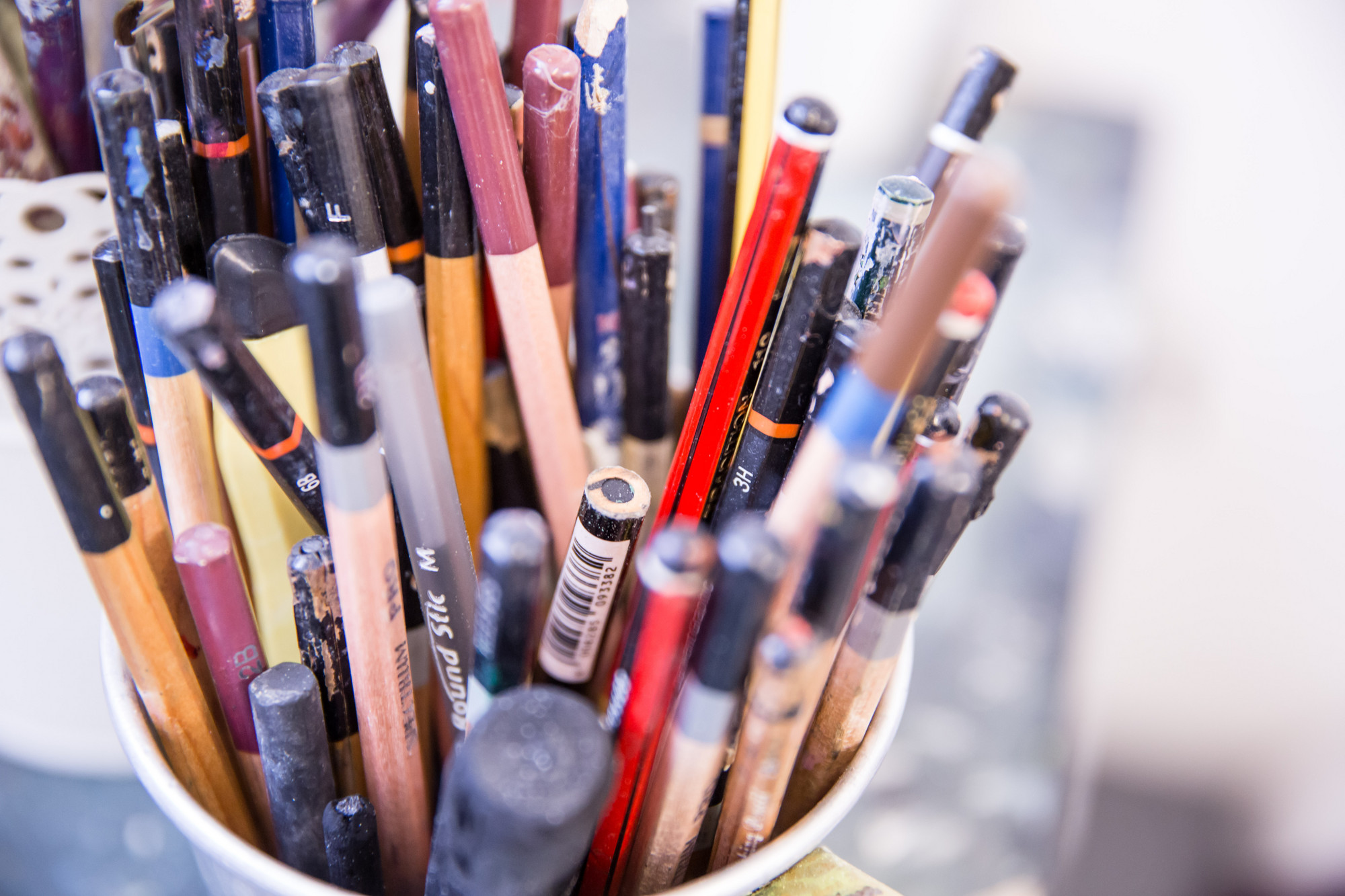 Explore our Undergraduate Courses
Explore our Postgraduate Courses
Explore the option of becoming an Art teacher with us
Explore some of the Universities our students have studied abroad at
Welcome to the Belfast School of Art
We connect and innovate at a local and international level.
Watch Now
Explore your next steps after graduation

Your next steps after graduation
You made it. You've completed your degree, graduated and breathed a huge sigh of relief. What now? Some of you will be fixed up or travelling on a clear path. Many a graduate though is still weighing up his or her options. The world is your oyster. The question is: which oyster? We hope the guidance and suggestions provided here will help you on your journey.
Take stock of your degree. You'll have thought of this no doubt. Talked with friends, parents, tutors and got through a lot of coffee.
But now the word employment is not only writ large on your calendar – it's underlined. Ask yourself again in what direction
could your degree take you?
Some degrees are vocational where you have been training for a specific job role. Many are non-vocational where the degree can lead into many different career areas. As you leave undergraduate life behind you it is useful to know what your options are.
You have a lot of options after you graduate if you've not already decided on a path.
Here are some more handy links to explore:
Ever thought about setting up your own business after you graduate?
Having the drive to start out on your own is half the battle but the key question is "Where do I go from here?" To start thinking about starting your own business check out The Ortus Group's guide to what to think about before you start.
Plus look at some case studies of local businesses who have started from nothing: Ortus Case Studies
What is a Social Enterprise?
A social enterprise is a business that trades to tackle social problems, improve communities, people's life chances, or the environment. This might sound like charity work, but social enterprises are businesses. They make and do things that earn money and make profits like any business. It is how they work and what they do with their profits that is different: working to make a bigger difference, reinvesting the profits they make to do more good.
Interested in finding out more about running setting up a business as a social enterprise? The Social Enterprise Hub at Ortus provides free expert guidance on everything from what is a social enterprise, set up, governance, legalities, marketing and finance.
Learn a new skill at City Business Hub
It's never too early (or late) to learn something new and City Business Hub based in central Belfast gives you the opportunity to explore new areas that can help in your longer term employability.
Plan what you will do with your degree and what activities you could get involved with in the Belfast School of Art to enhance your employability!

Plan
Plan your next career step in Art and Design
Research and make connecting with fellow graduates from the Belfast School of Art via LinkedIn. Then plan to meet a Employability and Careers Consultant at Ulster University to plan your next step.
Action
Complete a Belfast School of Art graduate profile
As a graduate, your experience and advice are very useful for future and current students studying in the Belfast School of Art. Please submit a graduate career profile if you would like to help prospective and currents students with their career planning by enabling them to see the stepping stones you took on your journey to career success.
Complete the NSS and Graduate Outcomes surveys to help give our School feedback for future developments
If you have recently graduated please ensure to complete both of these surveys when you are contacted.
Plan your career and develop career strategies

Plan your career and develop career strategies
You can access the full range of career development support at Ulster University for up to 3 years after graduation
This includes meeting with a Career Development Consultant at your campus of choice, attending all events and fairs to network with graduate employers, accessing online advice and information and attending our careers master classes in areas such as CV, interviews and LinkedIn.
Each campus has a dedicated Career Development Centre and you can call in Monday to Thursday 9am - 4:30pm and Friday 9am - 3:30pm. You can access advice through online chat, careers advice appointments (including via Skype) , email and telephone.
Centre locations
Jordanstown (13G01), Coleraine (H214), Magee (MF226E), Belfast (library)
We also offer exclusive internships to Ulster Graduates for you to gain graduate level experience and get paid.
Find out about our Alumni mentor programme where successful graduates of the University work with current students and recent graduates who wish to learn about how they developed their career.
Use online graduate career resources to help you understand more about how to get your ideal graduate job:
Job Searching
The best thing is to be proactive. Write to organisations to ask for work experience. (Don't simply wait for job ads to appear, or wait for emails to arrive in your inbox from the jobsites you've registered with.)
Develop Your CV – make sure it is clear and concise and that it highlights your strengths and your experience. Create several versions, tailoring them to different types of organisation, prioritising your experience accordingly so that they are relevant and targeted – and that they feel like they are 'speaking directly' to the employer and the employer's advertised needs. Don't just say what you've done, outline the potential you believe that you can offer. Enliven it with some relevant visuals and links. It's a good idea to get feedback on your CV, you will get excellent advice from the university careers service support. Maintain and build your contacts, expand your networks and invest time and energy in your relationships. Most opportunities come from people you know or are referred contacts.
Find out more about writing your CV
Your Virtual Self
Your online presence is important: it creates a perception of you and acts as your virtual ambassador. Think of yourself as a brand that secures your identity, personality, capabilities and reputation in the world at large.
Some pointers:
Be consistent (so you become instantly recognisable)
Know your target audience (who do you want to take notice of you?)
Be professional (which doesn't mean you can't show a lively personality)
Be active and keep your communications up to date
Keep it relevant – it's not a numbers game (it's better to have a dozen helpful 'friends' than a 1000 'followers')
LinkedIn helps you develop your network and research jobs/careers/employers in a recognisable way. Create a strong profile, search for jobs and develop your network through connections and groups available in your preferred professional area.
Preparing for interviews
When it comes to interview, preparation is the key.
Find out more about preparing for interviews and graduate recruitment processes.
What the Belfast School of Art would expect you to have accomplished by this stage of your career development

Explored a range of career options within the Belfast School of Art Graduate Destinations diagram.
Carried out the Art and Design careers skills audit.
Taken a look at a range of our graduates profiles and reflected on their experiences and advice to you in terms of how they have gained successful employment.
Explored the range of courses available to study in the Belfast School of Art to see which is right for you.
Completed a UCAS personal statement which demonstrates your focus and desire to achieve a career in Art and Design.
Sought careers advice from your careers teacher or the Employability and Careers Hub at Ulster University.
Checklist the Career Development Centre recommends you complete by this stage in your career

Check your progress so far
After you have graduated, aim to accomplish the following:
I have met with a Career Development Consultant to discuss my career development needs, options and future planning.
I have registered as a graduate user of Graduate Recruit to access careers events at Ulster University and graduate job vacancies.
I have viewed and applied for Ulster Graduate Internships, paid 3 and 6 month opportunities exclusive for Ulster graduates.
I have completed the DHLE survey when contacted by the Career Development Centre to record what I am doing 6 months after graduation
I have sent contact details to my course director so that the University has the most up to date contact information for me.
I have registered to act as a mentor for current students in the Alumni – Student mentoring programme
I have kept an eye out for Career Bootcamps and online support sessions to network with local employers and enhance my career development learning at Ulster University Graduates
I have completed the fact finder worksheet if I am pursuing setting up my own business.
I have developed my networks and LinkedIn profile to ensure I have the strongest connections to assist in my career development
I have learned about graduate recruitment processes, what employers look for and how to be successful in presenting myself to employers.