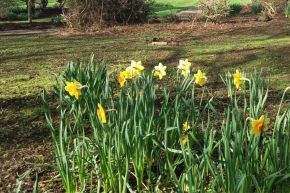 Guy L Wilson Daffodil Garden
As part of the Coleraine at Fifty celebrations, Library staff have put together an online exhibition of material relating to the Guy L Wilson Daffodil Garden on the campus.
Officially opened in 1974, the Garden was created under the curatorship of Dr David Willis, then superintendent of estates at the campus. It went on to become a National Narcissus Collection, which was awarded Heritage Garden status by the International Committee for Monuments and Sites. By 1984, the collection numbered almost 2,000 cultivars and species, gathered together from all over the world.
Explaining the significance of the collection, Mick Carragher, sub-librarian, Research Support Services, said:
"Guy Livingstone Wilson was brought up in Broughshane and developed an interest in gardening – particularly daffodils – at a young age. In 1922 he received his first award of merit from the Royal Horticultural Society for White Dame, one of the white varieties for which he is most famous. In the 1950s he received the Victoria Medal of Honour, the highest award of the Royal Horticultural Society.

"For many staff and students, the Garden is a much loved feature of the Coleraine grounds and particularly in April, it breathes much life and beauty into the campus environment. As we mark 50 years of the campus, our online exhibition is a tribute to Irish hybridists and particularly celebrates the foresight and passion of Guy Wilson who, to this day, is fêted as one of the most significant contributors to daffodil breeding in Ireland over the past fifty years."
Housed within the Library's Special Collections, the archive includes material on two important donations – an uncatalogued collection of material from the library of J. Lionel Richardson (1890-1961), an eminent daffodil breeder from County Waterford; and the collection of Dr David Willis which comprises letters, notebooks, catalogues, slides, photographs and other material relating to his life dedicated to daffodils.
While work on the collection will continue, a selected amount of material is available at https://guides.library.ulster.ac.uk/specialcollections/daffodils including some short videos relating to the history of the gardens, some pictures of the opening ceremony on 24 April 1974, and some photos of the gardens in bloom in 2019.
For more details on accessing our Special Collections, see our online guide here. Alternatively, contact any member of the Special Collections team via special.collections@library.ulster.ac.uk
---