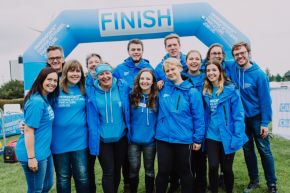 Parkinson's UK Causeway Coast Challenge
Gabriel Kelly, who is originally from Roscommon and now lives in Kent, came back to the area for the first time in 35 years to complete the Causeway Coast Challenge, to mark his 50th birthday
Saturday 8 September was a busy day on the Coleraine Campus with the Parkinson's UK hikers joining the Early Years delegates to mark the 50th celebrations of the Coleraine Campus.
The Causeway Coast Challenge was the first major walk in Northern Ireland for Parkinson's UK who have been making great impact both nationally and regionally. Parkinson's UK is a charity that provides an essential support network for people with Parkinson's and their families, it also raises vital funds towards research for a cure.
Dr Karise Hutchinson, Provost of the Coleraine campus said:
"I was delighted to welcome the Causeway Challenge as it formed an important part of the 50th celebrations for the Coleraine Campus, highlighting Ulster as a Civic University while supporting the extremely valuable work undertaken by Parkinson's UK.

"The support we received from participants and volunteers on the day was fantastic and will make a real impact for people with Parkinson's living in Northern Ireland."
120 people of all ages took part in the event which was designed to both raise money for Parkinson's UK and to raise awareness of the disease in Northern Ireland. Participants chose to walk or run 26, 18 or 12 miles and took in the beautiful sights of the North Atlantic Coast.
Clodagh Scott from Campus Life was at the finish line:
"It was great to hear all of the different stories on the day. Gabriel Kelly did the walk to celebrate his 50th Birthday, four nurses from England who work in a Parkinson unit literally danced over the finish line and two sisters were welcomed back by their 87-year-old mother who has been diagnosed with the Parkinson's disease."
We would like to extend a massive thank you for those who took part and to the volunteers on the day.
The money raised from the day will go towards high-quality care services and make a positive difference to the lives of people with Parkinson's and their families.
The event team at Parkinson's UK were delighted at the support they received, and we hope to welcome them to our campus in 2019.
---