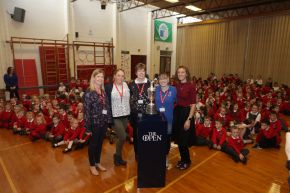 The Claret Jug visits the Coleraine Campus
Ulster University was delighted to welcome the famous Claret Jug to the Coleraine campus in advance of The Open Golf Championship returning to Portrush in July 2019.
The Claret Jug, or to use its proper name, the Golf Championship Trophy, is presented to each year's winner of The Open, golf's oldest and most international Major championship. Dating back to 1873 it is one of the best known sporting trophies in the world and students and staff had the opportunity to look at, but not touch, this piece of iconic sporting history. Only the Champion gets to hold the trophy.
Pupils at the local Ballysally Primary School also had the chance to see the trophy when Provost Karise Hutchinson and Sports Services staff visited their whole school assembly much to the delight of the pupils and staff.
The Open was last played at Royal Portrush Golf Club in 1951 and when it returns next year, Northern Ireland will be at the centre of the global sporting spotlight as the event is staged outside of Scotland and England for only the second time in the Championship's more than 150 year history.
It is expected to be the biggest sporting event ever held in Northern Ireland generating more than £70 million in terms of economic impact and destination marketing benefit.
Ulster University is currently one of only 17 universities worldwide, with a Golf Scholarship Programme supported by an R&A Foundation Institution Grant and we are proud to have a had a long term involvement with the Championship organisers as well as The R&A.
Plans are currently being finalised for the Coleraine campus to play an integral part in the support services and facilities network for The Open.
Ulster University students will have the opportunity to take on a variety of voluntary and paid roles in the lead up to and during the event. There will also be opportunities for students, staff and members of the local community to get involved with a series of development activities based around the Coleraine campus and surrounding Causeway Coast and Glens area, to actively encourage more people to engage with and enjoy the sport of Golf.
2019 will undoubtedly be a historic year for Golf in Northern Ireland and Ulster University is proud to be able to be part of shaping it and the legacy that will follow.
---