About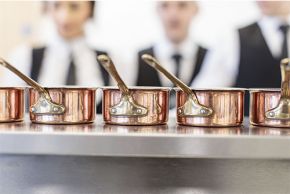 With floor to ceiling windows providing panoramic views of St Anne's Cathedral and Buoy Park, the Academy Restaurant is situated within Ulster University Belfast campus. The restaurant is easily accessible through the main doors of the University and our main reception desk is always happy to help with directions.
As the training restaurant for students studying the BSc Hons degrees in Culinary Arts Management and International Hospitality Management, the Academy Restaurant is open to the public throughout the autumn and spring semesters.
Going places in the global hospitality sector
Food critic Joris Minne highlights the strengths of The Academy training restaurant on the Belfast campus; Matt Logan, a graduate of the BSc (Hons) Culinary Arts Management programme delivers a personal perspective on his experiences at Ulster University and the learning journey that has taken him from The Academy to a three-star Michelin restaurant in New York; Alain Kerloc'h, Ox Restaurant, reinforces the strengths of Ulster University graduates and their readiness for careers in our thriving hospitality and tourism sectors.
Out of term functions
The restaurant also caters for out of term functions, so please contact us on 028 953 67327 if you would like further information on this provision.
The licensed Academy Restaurant offers a freshly prepared menu, full of culinary creativity and good value for money. We're a proud member of the Taste of Ulster and we're delighted to have been awarded an 'excellent' in our latest Taste of Ulster assessment. We also hold a 5* Food Hygiene Rating. Lunch is served daily from Monday to Friday from 12.30pm, while dinner is served on Tuesday and Thursday evenings from 7.00pm.
We look forward to welcoming you at the Academy Restaurant. You'll enjoy great food and service, while supporting the next generation of gastronauts.
For reservations and further information, please contact (028) 953 67332 or email academyrestaurant@ulster.ac.uk