Unique Instruments, Expectant Spaces by Hall McKnight
Friday 18 October 9.00am to Friday 8 November
to 8.00pm
UU:Belfast campus
Ulster University, with Belfast International Arts Festival and British Council, are proud to host the return of Hall McKnight's work to Belfast from the 16th International Architecture Exhibition in Venice at the La Biennale di Venezia.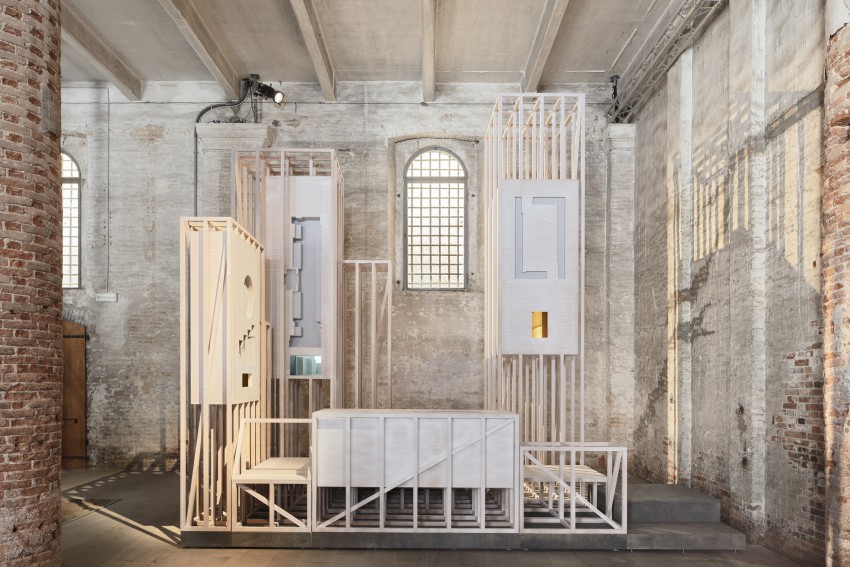 Metaphor, simile and story-telling are at the heart of local architectural practice Hall McKnight's work. In 2018, for the prestigious 16th International Architecture Exhibition in Venice, La Biennale di Venezia,their work was presented as an ensemble. The large-scale installation cross-referenced a number of their projects including the re-imagining of new civic spaces from a variety of different perspectives.
Unique Instruments, Expectant Spaces – Ancillary Programme
This exhibition will be accompanied by free public talks at Ulster University reflecting on the architect as "artist"; how Henry James' preface to The Portrait of a Lady influenced the creation of the installation; and the role of the architect in addressing the unspoken wishes of people they have never met.
In addition, architects Hall McKnight will engage with students and practitioners across various disciplines at Belfast School of Art and Belfast School of Architecture and the Built Environment to produce and exhibit their own responses to a selected literary quote or translation.
Plans are also being made for a free schools workshop led by Hall McKnight.
With thanks to installation sponsors U-Hire, Big Picture Joinery and JP Corry
For further details or contact enquiries@belfastinternationalartsfestival.com
https://belfastinternationalartsfestival.com
---
Location
Ulster University,York Street, Belfast, BT15 1ED.
Ulster University believes that creativity is a cornerstone of society. It has a very important part to play in our quality of life, wealth and civilisation.

View full programme
Arts & Culture - Social