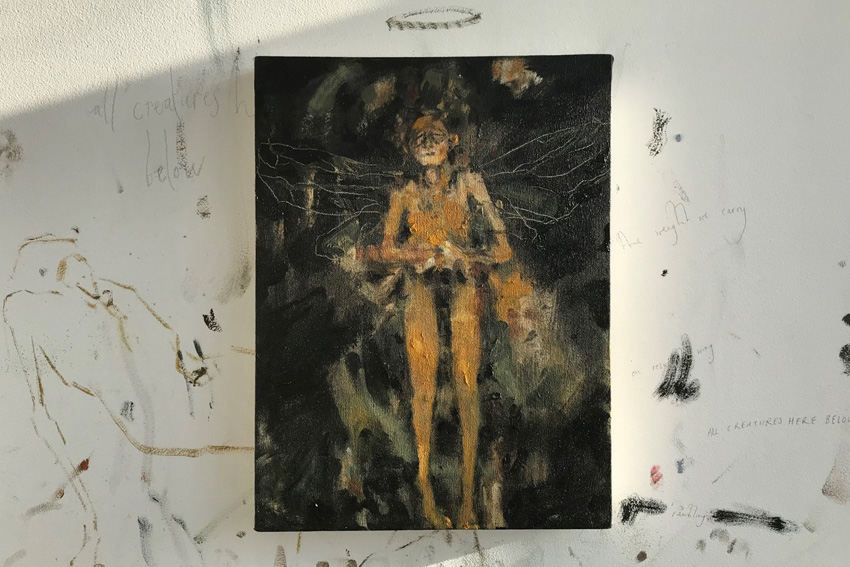 Hannah Clegg is an artist based in QSS Studios, Belfast. Her recent paintings use poetry and prose to transpose elements of the human condition into parable. Certain narratives form: blue bats fly through the belly of the earth, anthropomorphic moths seek light, the clouds transfigure, every bee is an angel, and somewhere in the distance Noah's dove is weeping. Environmental issues are looked at through the gates of Eden. Intuition and accident, mythology and metaphor, faith and doubt, all join hands in the studio.
Hannah Clegg graduated from Belfast School of Art in 2017, BA Hons Fine Art (Painting), receiving the Dean's List Award. Since then, her work has been exhibited in Dublin as part of the RDS Visual Art Awards (2017) and has been included in a range of group shows within Belfast. In January 2019 she had her debut solo exhibition in Ards Arts Centre, Newtownards. Clegg's paintings are held in private and public collections throughout Ireland, including Ulster University and Stormont Department of Finance. She is currently involved in an ongoing group project of collaborative nature with five other Belfast-based artists, 'The Drawing Journal', with an ensuing exhibition in the Dillon Gallery, An Chultúrlann, in 2020.
Location
Conor Lecture Theatre, Ulster University, Belfast Campus, York Street, Belfast, BT15 1ED.
Ulster University believes that creativity is a cornerstone of society. It has a very important part to play in our quality of life, wealth and civilisation. Arts & Culture produces a year-round programme of creative activity for the public, its staff and students. This arts activity is part of the University's civic role that helps to strengthen our communities and generate a prosperity that we can all enjoy.

View full programme
Arts & Culture - Social