Visual lecture by award-winning artist Oliver Jeffers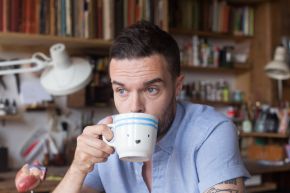 'The Working Mind and Drawing Hand'
Ulster University graduates and friends are invited to an event with award-winning artist, New York Times best-selling author and Ulster graduate Oliver Jeffers.
A performance of self-explanation, story-telling and picture-drawing.
Oliver Jeffers is a visual artist and author working in a variety of disciplines. The core of his world is a unity curiosity and humor — a desire to ask questions and tell stories about his observations. As much as it is about investigating the ways in which the human mind understands its world, Oliver Jeffers' work is also executed as comic relief in the face of futility. For this talk, he will guide people through a brief history of how various projects came to be, and how his fine art practice and publishing work often cross-reference and influence one another.
Jeffers critically acclaimed picture books, including Here We Are (Notes for Living on Planet Earth), Once Upon an Alphabet, and The Day the Crayons Quit (written by Drew Daywalt), have been released worldwide, sold over 10 million copies, and been translated into over forty languages.
His artwork has been exhibited at institutions including the Brooklyn Museum, the Palais Auersperg in Vienna, the National Portrait Gallery in London, and the Ulster Museum in Belfast. Oliver has been the recipient of numerous awards, including a New York Times Best Illustrated Children's Books Award, Irish Book Award, British Book Design Award, The Bologna Ragazzi Award and United Kingdom Literary Association Award. Oliver collaborated with Studio AKA on a short film adaptation of his second publication, Lost and Found, which received over 70 awards worldwide, including a BAFTA. He has collaborated with various other artists including the French photographer JR, the Dublin band U2, and London typographer Sam Winston. Originally from Belfast, Northern Ireland, he now lives and works in Brooklyn, New York.
Find out more about Oliver and his work here: www.oliverjeffers.com
Register
---
Belfast campus location info
Address
Ulster University
York Street
Belfast
County Antrim
BT15 1ED
Campus maps