Convocation Annual Lecture: Postponed until further notice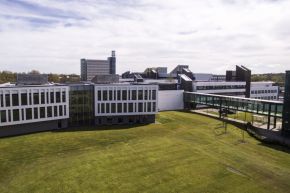 This event has ended
Please note this event has been postponed until further notice
The Convocation Executive Committee would like to invite you to their annual lecture 'Poetry and the Art of Peace' by Pádraig Ó Tuama.
This is a very special year for the Convocation Lecture, which is taking place at Coleraine campus in its 50th anniversary year, an anniversary that Corrymeela has recently also celebrated. Pádraig's attendance thus draws a wonderful congruence between these two institutions, both founded on the North Coast, both created to bring new hope and new potential to Northern Ireland as it entered into its period of greatest darkness.
Pádraig Ó Tuama is a poet, theologian, mediator and peace activist/educator. Since 2014, he has been the leader of the Corrymeela community, Ireland's oldest and pre-eminent organisation for peace and reconciliation. He grew up in Cork, and after a nomadic, highly creative decade in Switzerland, Australia, Lithuania, Uganda and the Philippines, he settled in Belfast in 2003. With a poet's interest in storytelling, language, theology and conflict are among the dominant themes referenced in his work.
Pádraig writes poetry and prose, lectures, leads retreats, and is a frequent contributor to religious broadcasting across the British Isles. His published poetry and prose include In the Shelter, Sorry for your Troubles, Readings from the Books of Exile and Discovering the Spirit in the City. He is also a group worker and has worked with groups in Ireland, Britain, the US and Australia.
Conflict often begins and ends in words: words of negotiation, words of treaties, words of apology, words of caution. While words are not the final word of peace, they are significant in the process of deepening trust, in acknowledging pain and impact, and in acknowledging both the past and the truth. This lecture will consider words that have current political and poetic currency for peace.
Please confirm your attendance with the Convocation Executive Committee, Office of the University Secretary at convocation@ulster.ac.uk or on (028) 70124533.