Ulster University Challenge Team in conversation with Professor Paul Moore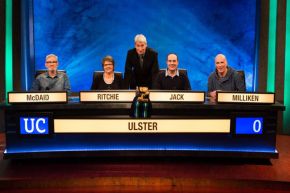 To celebrate the fantastic achievement of our University Challenge team successfully reaching the quarter finals of the competition, Ulster University is delighted to invite you to a Life Stories event with the entire team.
The team represents all campuses and a range of faculties, featuring Iain Jack as captain (PhD researcher and lecturer in Clinical Pharmacy and Pharmacy Practice), Cathal McDaid (MA in English Literature), Kate Ritchie (BA in Fine Art) and Matt Milliken (PhD in Education at the UNESCO Centre in the School of Education) as well as the reserve team member, Padraig O'Kane, who is studying for a BEng in Renewable Energy Engineering.
University Challenge is recognised as one of the toughest quizzes on TV. The team fought off fierce competition to reach the televised shows for the 2017/18 series, with over 100 student quiz teams auditioning for only 28 coveted places on the show's 47th series.
During the series, so far the team has competed against strong opponents including University of Edinburgh, St. Anne's Oxford, University of Warwick and St John's College, Cambridge and are still to contend against University of Bristol in March.
The conversation will delve into the team's exhilarating journey throughout the show, find out what it is like being grilled by show presenter Jeremy Paxman and give an insight into what goes on behind the scenes as well as any advice the team would give to others thinking about competing.
Ulster University is very proud of our University Challenge team's success and we look forward to welcoming you to this event to share their experience.
Booking is essential due to limited places. Places will be reserved on a first come, first served basis, due to expected demand.
Light refreshments will be served after the Life Stories event.
For further information you can email: alumni@ulster.ac.uk or call +44 (0)28 9536 7486
Register
---
Belfast campus location info
Address
Ulster University
York Street
Belfast
County Antrim
BT15 1ED
Campus maps