Magee Year End BANG with Free Ice cream, Chippy, Coffees & treats!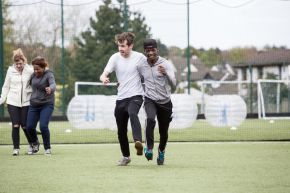 Date

Time

17:00 to 21:00

Location

Magee campus

Contact details
Its the last event of the year and your chance to enjoy an end of year blow out (or if you prefer to sit back, relax and chill out) with your friends before the exams start & the year is official over! Can you believe that's your first, second or final year done??
There will be a DJ onsite blasting the tunes, FREE ice creams all round from the Ice Cream Van, FREE chippy/burgers/hot dogs for all residents as well as FREE speciality coffees and treats.
Challenges include old skool games, fun activities with spot prizes to be won.
3 TEAMS...10 EVENTS...1 PIZZA PARTY UP FOR GRABS!
TEAM 1st YEARS - 25 first year residents from DSV & Coppin.
TEAM 2nd YEARS - 25 second year residents from DSV & Coppin.
TEAM FINAL YEARS - 25 third years, internationals & (not so) mature residents from DSV & Coppin.
Tell us your Team Captain, Team Name & we will give you all end of year tshirts on the day.
The winning team of x25 residents will enjoy a pizza party in THE HIVE that night...which will set you up perfectly if going out that night!
Its the perfect end to a great day & great year! :-)