Magee ResLife Challenge- Footie competition! £50 AMAZON VOUCHERS FOR WINNERS!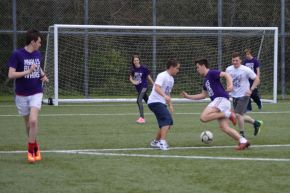 Date

Time

15:30 to 18:00

Location

Magee campus

Contact details
One of the most popular ResLife Challenge events and with £50 Amazon vouchers for the winning side its all to play for!
Remember...Its all about pride & bragging rights!
Key things to know...
Its a 5aside tournament held on DSV 3G pitch. Teams must have a minimum of 1 player of the opposite sex so that's 4 guys 1 girl or 4 girls 1 guy!
FORFEIT! If you don't have one member of the opposite sex registered on your team you play with four players ;-)
All players must live within residences - bring along your residential ID on the day of the tournament.
Register your team in advance with the RAs, in the Hive from 2.30pm on the day of the tournament.
Its free to enter.
First game 3.45pm bring along runners incase mouldies are not permitted.