Coleraine End of Finale!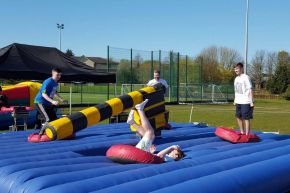 This event has ended
Date

Time

15:00 to 18:00

Location

Coleraine campus

Contact details
Its THE last event of the year and the one everyone looks forward to...the end of year fun day AND Block Wars Winner 2017 will be decided here as there are so many points to be won! Dedicated athletes are required with serious skills to take on the....(ahem)...Egg n' Spoon Race, Sack race, 3 legged race AND longest throw!
There will be lots of inflatables, bubble football, and Free pizzas so grab your flatmates (and your best mates) and have fun before the exams start, the year ends and its all over...
What's it all about?
The residents who live in the block and are part of the team with the most points after last event 'Old Skool Sports & Fun Day' will be taken out for a night out with dinner so well worth it! :-)
Points
Depending on where you finish will depend on what points you get but with BIG bonus points to be won on every event your team always has a chance to win...
1st place - 100 points
2nd place - 80 points
3rd place - 60 points
4th place - 40 points
5th place - 20 points
6th place - 10 points
7th - 9th place - No points
Bonus points opportunities on this event are...
50 points for longest 'Toss the Welly'
50 points for 'Hoop and Clink'
50 points for the most members of the block out in team colours
Teams
| Team | Block(s) | RSA Team Captain |
| --- | --- | --- |
| Team Red | Errigal & Knocklayde | Shruti Mohan |
| Team Blue | Agherton | Aoife McKenna & Andre Grainger |
| Team Green | Cranagh Blocks B-E | Rachel Blackmore |
| Team Yellow | Cranagh Blocks F-J | Aibhe Keevey |
| Team Purple | Cranagh Blocks K-N | Lauren Dunne |
| Team Black | Maple | Sagar Vyavahare |
| Team White | Cromore | Syed Ahmed & Lakshmi Tripathi |