Belfast & Jordanstown Welcome Party with UUSU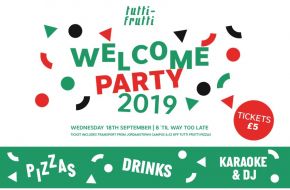 Date

Time

20:00 to 22:00

Location

Belfast; Jordanstown campus
Bring your own and hit the SU for pres. Chat and chill in your Students' Union space with your campus mates before heading to the hottest venue in town.
Belfast Campus - Student Roost Common Room then onto Tutti Fruitti's
Jordanstown Campus - Students' Union (7pm-8.30pm) then bus will leave to Tutti Fruitti
£5 – free entry to the SU, free shuttle bus to Tutti Fruitti, free entry and £2 off any pizza!
Get tickets at: https://www.uusu.org/events/