Overview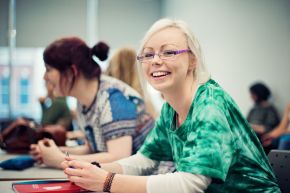 With a progressive approach to teaching, a dedication to pushing research boundaries and a strong commitment to economic development, Ulster University is a responsive, dynamic and vibrant centre of learning.
Although the University can trace its roots back to the early Victorian era, our focus is firmly on the future and today our four campuses provide a broad range of career-focused undergraduate and postgraduate courses, across a wide range of disciplines.
From advertising to veterinary public health, programmes are learner-centred, equipping our students with the skills they will need for the workplaces of tomorrow.
International reputation
Ulster University's international reputation for research excellence received world-wide recognition in the 2014 Research Excellence Framework.
The national assessment of research quality reinforces our influence, the relevance of our research-informed teaching and our impact in areas as diverse as health, the economy, the creative industries and social policy.
Region and reach
As a regional university, we are uniquely placed to engage with communities, with local leaders and with imaginative partners who share our ambitions for Northern Ireland and its young people.
Our reach extends beyond the immediate locality too – we have forged strong alliances with a wide range of partners across the globe and this exchange of knowledge between academia, business and society enhances our teaching and research excellence and enriches the student experience.
We aim to produce graduates who are confident, adaptable, independent and inspired to learn more – the environment in which they do that is paramount.
Pioneering
While we are keeping pace with technology and digital delivery of courses, we are continually investing in contemporary facilities across all our campuses to promote a rich learning and social experience for our students.
We are shaping futures.
Corporate plan
Annual Reviews