Ulster University plays leading role in Culture Night celebrations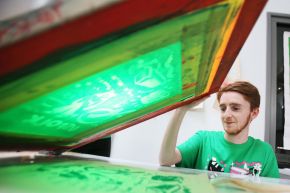 Conor McClure from Us Folk Illustrations is pictured during the Culture Night celebrations at Ulster University.
From story-writing workshops, an electronic drum performance and an opportunity to get hands-on with curiosities from the national museums, Ulster University had something for everyone at Culture Night 2016.
Home to the next generation of creative talent, the University opened the doors of its Belfast campus in the heart of the Cathedral Quarter to host a wide range of events as part of the City's largest cultural celebration. Highlights from the night included The Museum of Tactile Art led by leading charity Blind Children UK and a live experimental drum performance from Ulster University graduate John Macormac.
Provost of Ulster University's Belfast campus, Professor Paul Seawright, said: "Ulster University's Belfast campus is a vibrant cultural hub where local communities, businesses and academia come together to develop and thrive. Every year we look forward to supporting Culture Night when thousands of people flock to the area for a night of creativity, culture and fun.

"Ulster University's Belfast campus is currently undergoing a major transformation with a £250 million redevelopment that will create a state-of-the-art teaching, learning and research environment in North Belfast. On completion, this enhancement will provide more space and support more opportunities to engage with local community initiatives and cultural celebrations."