Ulster University supports budding engineers to solve robotics challenge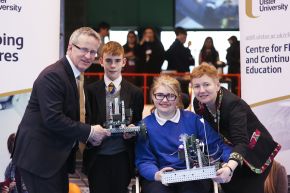 Pictured with their robots are Katie Douglas of Fleming Fulton School, Belfast and Nathan Mawhinney of Corpus Christi College, Belfast, alongside Ulster University Vice-Chancellor, Professor Paddy Nixon and Karen Hancock, Principal of Fleming Fulton School where the competition was held.
More than 100 pupils from nine local schools rose to a global robotics challenge supported by Ulster University and the Royal Academy of Engineering at Fleming Fulton School, Belfast.
The VEX Robotics Challenge is a world-renowned engineering competition designed to promote the area of STEM – Science, Technology, Engineering and Maths – making these subject areas and future career opportunities more appealing and accessible to young people.
In the months leading up to the Challenge, teams of Year 10 pupils were tasked with using their engineering skills to design, build and programme a remote-controlled robot, solve an engineering challenge – in this case stabilising their robot – and develop strategies for securing the most points in the competition.