Ulster University helps leading employers showcase 2500 jobs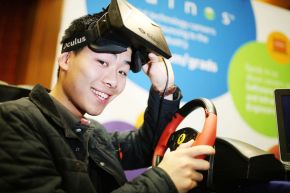 Computer science student, Jeremy Leung, gets to grips with IT training software as he explores career opportunities with Kainos Group plc.
Ulster University's four-day Autumn Recruitment Fair will see 2500 graduate job and work placement opportunities on offer from leading global and local employers.
With jobs across the IT, finance, law, built environment and engineering sectors, highly-skilled Ulster University students are getting the chance to explore the varied careers available from companies ranging from Citi and Allen & Overy to McLaughlin & Harvey and NACCO.