Ulster University honours top work placement employers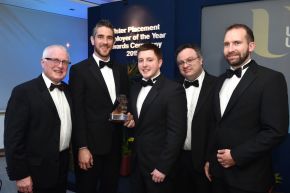 Pictured at Ulster University's Placement Employer of the Year Awards, Acting Vice-Chancellor, Professor Alastair Adair; Paul Mearns from Metronic, winners of the student nominated category; placement student, Luke McCartney; Minister Stephen Farry and Declan Costello, Metronic.
A number of leading employers have been honoured for their commitment to shaping the futures of local students at Ulster University's Placement Employer of the Year Awards.
Ulster University collaborates with businesses across all sectors to provide work-based learning for its students, which equip them with the necessary skills to thrive in industry both locally and internationally.
The awards are designed to celebrate the key role played by employers in nurturing the next generation of skilled graduates. This year's winners include Liberty Information Technology, 4Beauty Group, South West College, Heritage Administration Services Limited, Medtronic and South Eastern Health and Social Care Trust, Estates Department.
Employment and Learning Minister Dr Stephen Farry attended the event to congratulate the winners. He said: "I would like to congratulate all the employers who are working in partnership with Ulster University to enhance the skills of our young people through work experience opportunities. Our highly-skilled graduates are a key driver of our economy, helping to grow indigenous companies and attract foreign direct investment to Northern Ireland."
Ulster University's Acting Vice-Chancellor, Professor Alastair Adair added: "Through work experience placements the University is helping to bridge the gap between the classroom and workplace for our talented students. The companies we partner with also benefit by getting the opportunity to actively shape the next generation of business leaders who will ultimately drive future economic growth."
Category winners include: