John Kelpie
Chief Executive - Derry City and Strabane District Council
School/Department

Economic Policy Centre (EPC)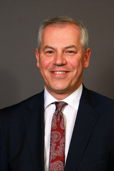 John Kelpie is the Chief Executive of the newly formed Derry City and Strabane District Council. Established in April 2015 as a result of a programme of local government reform in Northern Ireland, this new Council serves a larger geographical area and has a range of additional powers, functions and responsibilities than its predecessor councils.
John led on the creation of the new organisation designing an innovative, flexible and responsive staffing structure with a clear vision and purpose - to develop a thriving, prosperous and sustainable City and Region with equality of opportunity for all.
The Council will achieve this vision with a focus on economic, environmental and social well-being and regeneration and by addressing and targeting poverty, social exclusion and disadvantage through its new processes and functions.
With one of these new functions, the power of Community Planning, John is harnessing the collaborative advantage of partnership working by securing the energy and commitment of the District's residents, businesses, community and voluntary sector organisations and statutory partners to support the Council in driving its ambition and vision collectively.
"Our Citizen first and business-centred approach is key to our success" John explains, "and together we will drive forward the economic prosperity of this exciting City and Region; protect and develop its natural and historic built environment, promote its rich culture and diversity and empower and sustain its greatest asset – its people and communities."