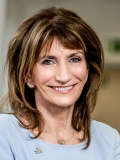 Marie joined St Mary's College in 1985 and taught Science for 21 years. She joined the Senior Leadership Team in 1998 and was appointed Principal in 2006.
Marie's appointment as Principal coincided with the first formal Shared Education Programme where the existing informal cross – community partnership between St Mary's and Lisneal College developed to include shared timetabled classes. The Shared Education partnership with Lisneal and St Cecilia's Colleges continues to the present day.
In 2006 St Mary's was awarded Specialist Status in Science and the College continues to promote STEM/STEAM Careers Pathways for their students. In addition, the school is one of a small group of schools worldwide to be recognised as a Microsoft Showcase School. St Mary's was recently selected as a Digital School House which enables teachers to bridge the gap between industry and education to prepare the next generation for a digital age. St Mary's also runs a unique Swim/Tri Academy and an Entrepreneur in Residence Programme.
Marie is currently a board member of School Employer Connections, the Walled City Music Partnership, the Shared Education Learning Forum (SELF) and the Pope John Paul 11 Committee. Marie is a member of Derry City and Strabane District Council's Education and Skills working Group. She was a board member of EFQM Brussels and chaired the Foyle Learning Community 2016-17.
In 2016 Marie was named Principal of the Year at the Foyle Blackboard Awards and in April 2018 she was inducted in to the Business Excellence Hall of Fame.