Mr Colum Mackey
University Council member Colum Mackey.
---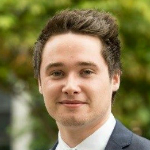 Mr Colum Mackey is the current President of the Students' Union. He graduated in the summer of 2014 with 2:1 Hons degree in Law.
Following a challenging but extremely enjoyable year as Vice-President for the Jordanstown campus he decided that he wanted to continue to help shape the Union and lead change for the benefit of Ulster students. He ran for President and alongside his team of student officers is enthusiastic about working in partnership with the Vice-Chancellor and University staff to ensure the student perspective is at the fore of all decisions made, especially at this difficult time.
He aspires to support and enhance all aspects of the Students' Union, including the Student Council, the promotion of Course Reps, societies and sports clubs. He wants every student to feel welcome on the designated Union areas on all campuses and where students can meet and pursue their society activities. The Union need to add real value to the student experience as well as hosting fun events. Colum will continue to strengthen links with NUS-USI as they lobby on students behalf for educational and social change.