Mr Aidan Langan
University Council member Aidan Langan,
---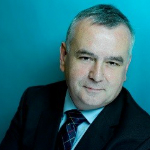 Mr Aidan Langan is the Chief Executive of Enterprise Equity Fund Management Ltd, Northern Ireland's longest established and most successful venture capital firm. He is also a non-executive director of several Northern Irish SME's including Balcas Ltd and Intelesens Ltd.
Previously he worked with the Industrial Development Board where he spent three years developing the IDB's operations in the Far East. He returned to Northern Ireland in 1992 where he was responsible for a number of significant IDB inward investment projects.
By background Aidan was a Chartered Structural Engineer. He holds an MBA in International Business and Industrial Development from the University of Ulster. He is a member of the BBC Audience Council for Northern Ireland and serves on the Board of Enterprise Northern Ireland. Aidan is married to Anne and has two teenage children.